New Published Study Adds to the Growing Body of
Evidence that HipSaver® Hip Protectors Prevent Fractures!
"High efficacy for hip protectors in the prevention of hip fractures in elderly people with Dementia"
Shoham Geriatric Medical Center, Israel
Author: Doron Garfinkle, MD

Summary:
1.5 year study of 206 institutionalized geriatric patients(began 2004)
HipSaver intervention group: 106 patients
2 hip fractures in 260 falls
75% compliance

Control Group:
100 patients
14 hip fractures in 323 falls
Reduction in hip fractures by wearing HipSaver:
11 fractures prevented, 80% reduction in hip fractures
Fall frequency adjusted
Although the study had a control group it was not randomized because as
Dr. Garfinkle states in the study: "we were impressed by the effectiveness of hip protectors in our pilot study in 2003 and it seemed unethical not to offer hip protectors to all new patients after January 2004."

Click here to see abstract of this published study:
HipSaver Studies Combined Results from 3 Independent Care Centers

Location

# Fractures in Control Group

# Falls

# Fractures

East Boston PACE

199

0

9

N/A

Masonic Home, Charlton MA

126

0

0

90%

Shohom Geriatric, Israel

260

2

11

75%

Total

585

2

20

Avg. 80%
* Control group fractures mathematically adjusted down to account for fall frequency
HipSaver hip protectors work in actual care institutions in contrast to hip protectors with hard plastic component pads as reported in JAMA and other journals.
HipSaver Hip Protectors Reduce Fractures in Burnaby Hospital.

The incidence of hip fractures reported among seniors dropped from 14 in the 2003/2004 fiscal year to 3 in 2006/2007.

Click hear to read this article:
New published study reports high compliance rates and no hip fractures with HipSaver.

The results of a 13 month long study were published in the Sept/Oct. 2003 issue of the Journal of the American Medical Directors Association. HipSavers were written into the care plan of 38 at-risk residents. The study authors report an average 93% compliance rate for the duration of the study. Equally important, there were 126 falls among the HipSaver wearers and no hip fractures. The results are very significant since compliance is a major ingredient in the success of any hip protector program. Previous studies on hard-shell hip protectors have reported much lower compliance rates.
The HipSaver study is available from the publication (J Am Med Dir Assoc 2003; 4: 245-250) or on-line at www. jamda.com.

Results: Average compliance as per care plan: 93%
Number of falls in HipSaver wearer group: 126
Number of hip fractures in HipSaver wearer group: 0

Click here to see abstract of this published study:
Clinical study published in October 2000
The Elder Service Plan of the East Boston Neighborhood Health Center conducted a study to investigate the efficacy of HipSavers.
In this controlled study, the group wearing HipSaver hip protector underwear had a 0% fracture rate (199 falls over 26 months) compared to a 4.3% fracture rate (369 falls over 26 months) for the less at-risk control group. Today, after more than four years and over 400 falls, there still has not been a single fracture among HipSaver wearers.

Click here to see this study, published in Advance for Physical Therapists (Vol.11, Number 22, pp 45-46) October 30, 2000 (PDF).
Biomechanical Testing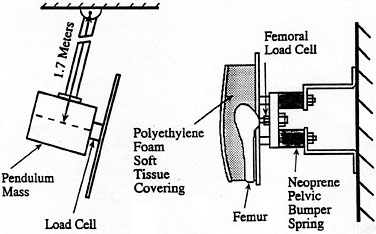 Illustration of Biomechanical Testing Apparatus at Harvard University
HipSaver has been independently tested at two prestigious Universities: A mechanical pelvis was used to record pad protective effect in a simulated fall condition of an elderly person. These tests, conducted at Harvard University and Tampere University of Technology in Finland, two of the leading researchers of hip protection, relate the protective effect of pads to the literature-established bone fragility of an elder person's trochanter.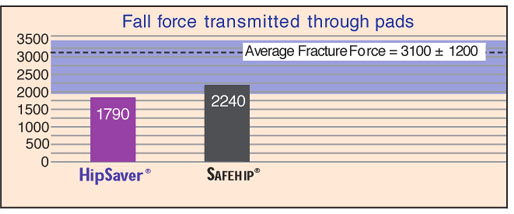 Results show the HipSaver airPad™; technology reduced the force of impact from 7300 Newtons to 1790 Newtons – that's more than 20% more force reduction than the hard-shell protection.
(Average fracture force: 3100 N +/- 1200 N)



Click here to view Biomechanical Test Documentation published in Bone (August 25, 1999, (2):229-235) and HipSaver test report from Tampere University of Technology, Finland, Sept. 15, 2000.
In order to view certain documents, the latest Adobe Acrobat Reader will be required. Simply click on the "Get Acrobat Reader" icon below to download this free software:

PRODUCT VALIDATION & TESTING
HipSaver was introduced in 1994 by Ed Goodwin, consumer products engineer trained to develop effective consumer-friendly products. This training is evident in HipSaver products.
Since 1994, tens of thousands of HipSavers have been sold to nursing homes, elder communities and individual active seniors. HipSaver is fast becoming the preferred choice of VA Long term care units, nursing homes and structured Elder Service Plans such as PACE Communities, around the country and around the world.
Early investigators proposed hard "shunting" shells as the preferred hip protector means but recent independent university biomechanical tests conclude that the HipSaver airPad™ can be more effective in shock force reduction than the hard shell. The HipSaver hip protector therefore offers better protection without the discomfort of hard shell protectors.
HipSaver® – proven in biomechanical testing
and clinical studies.
Why is this important to you?
Independent biomechanical testing and clinical validation are crucial for a hip protector. Without them, you won't know IF it works until it HAS to work. And that is too late.
Think of it this way...which parachute would you choose?
One manufactured by a company with proven testing, independent scientific validation and years of market success or one that looks similar but has no performance data or market history.
Don't Settle for Less...
Insist on original, independently validated HipSaver!
It takes more than foam pads and underwear to provide all-soft hip protection that works! Beware of imitators seeking to cash in on years of HipSaver research, development and testing in materials, processes and actual use.
Only HipSaver products have the unique patent-pending dual-mechanism shunting/absorbing HipSaver® airPad™ – a system shown to deliver significant impact reduction in independent testing.
In the event of a fall, the HipSaver airPad absorbs impact and inflates the pouch. Acting as a miniature automobile air bag, it shunts force away from the vulnerable hipbone to the soft tissue of the buttocks.
HipSavers are the only all-soft hip protectors, proven effective – in both independent biomechanical testing and clinical study.

Email us at cs@hipsaver.com or call HipSaver toll-free at 1-800-358-4477 for answers to your questions or to discuss any issues.
While HipSaver has achieved excellent and impressive results, no product can claim to be 100% effective all of the time. Therefore HipSaver, Inc. makes no implied or express guarantee that its product will prevent injury.